Doris' Korean-style BBQ Ribs . . .
July 05, 2020 07:43PM
This is a story I posted on the mainboard, but it was a great cook and good eats.
So I bought some beef short ribs from the Costco . . .
I was planning to throw them on the smoker and cook them all day Saturday. We weren't doing a family get-together on Saturday. It was just going to be me and Mrs. Doris and I was going to put Fox Brothers to shame with the cook I was going to apply to those short ribs. So I get up EARLY Saturday morning. Throw the pack of ribs on the counter to start coming up to temp and head out to set up the smoker.
I get the smoker going and I head back to throw some SPG on the ribs before I commit them to the smoke. It was them I realized with shock and horror that the pack of short ribs I bought was SLICED ribs! OH SHIT!
I wanted . . .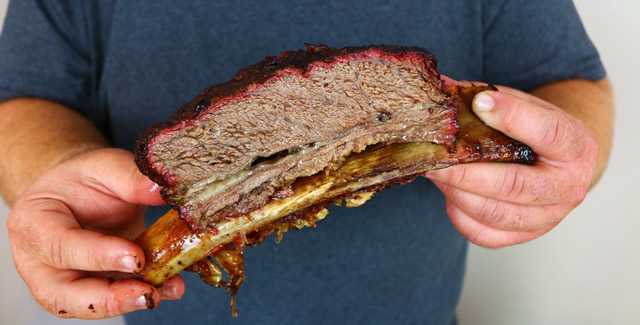 But what I got was . . .
So instead I go get the smoker shut down and cleaned up and then thought what in the hell am I going to do with this junk. I decided to do some Korean-styled BBQ ribs.
I covered the ribs parts in garlic powder and stacked them up and put the tray in the fridge for about an hour. Then I took brown sugar and sprinkled it over each piece and restacked them for about 20 minutes so the sugar could get on up in there while I made a kickass marinade.
1 cup of Low Sodium Soy Sauce
1 cup of water
1/2 cup of mirin (rice wine)
2 tablespoons of sesame oil
1 teaspoon of dried ground ginger
2 tablespoons of minced garlic
1 Asian pear grated finely
1 small onion grated finely
Some fresh ground black pepper until it looked like enough
A significant amount of ground shichimi pepper
Several dashes of lime ponzu sauce
I poured that over the garlic and brown sugar-infused ribs and threw them in my beer fridge for 4 1/2 hours.
I fired up the grill with way too much Kingsford Professional Charcoal (get it at the Costco - it burns longer and hotter and leaves almost no ash - that shit is fantastic). It took about three minutes to cook each of the ribs slices. I filled the grill, turned everything, and then started taking them off at the other end. It was fan-damn-tastic. You should try this yo-self.